Welcome To Wallygrange!!!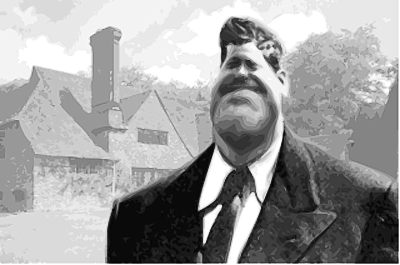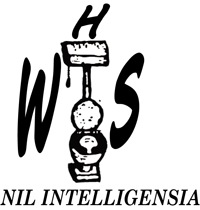 On the left, Wallygrange's outrageous Head Teacher outside "Sunnydale," his palatial 1.3 million mansion in Prestbury! This was partly funded by the parents of Wallygrange High School. When asked if I wanted to thank them for their contribution, I replied, "Why should I ">**!!**@*& thank them all, we're not doing this for the fun of it.
Next to him is the Wallygrange High School Badge, (redesigned by our 6th Form.) Be warned that this is protected by copyright. That means if you've looked at it you must pay a fee of £5.99 + VAT. Send cheques or Postal Orders to: Mr A. Hitchcork, 196 "Sunnydale," Beeston Avenue, Wallygrange, Nr Macclesfield SK00 01ZZ)
(Another source of income is money laundering. Let's face it, there's nothing worse than taking a £10 or £20 note from the cash dispenser only to find it's grubby, (the note I mean, not the cash dispenser.) Not to mention all the dirty coins circulating around. Think of the germs. It's a wonder most of us haven't come down with MRSC, or whatever. So the 6th Form have developed a machine that washes dirty money. Coins come out sparkling clean and notes are ironed out on a steam press. For a nominal fee, of course! After all, we're not doing it for the fun of it!)
A MESSAGE FROM THE HEAD TEACHER
Hi, there!
This blog is intended for pupils and parents of Wallygrange High School, (not forgetting the staff, of course.) Along with making announcements the traditional way, (sending out memos or starting rumours), I've decided to add IT. I'm referring to "Information Technology," not some monster from the nether regions. And those disgusting pupils or members of staff who thought "nether regions" meant a certain part of the anatomy should be thoroughly ashamed of themselves. Actually, to be fair, the idea for this came from our 6th Form who thought it might help tarnish the reputation of the school even further. When I pointed out that this might prove impossible, they suggested we might as well give it a try. After all, what have we got to win? Ah, the exuberance of youth! I was once just as keen as they are. I don't exactly know when that was, but I'm almost sure it happened.
Where was I? I'm afraid I've had a little nip of Wheek's remarkable Gooseberry Wine. Literally, as those who've imbibed it will tell you, a truly mind bending experience. Or should that be mind breaking?
Anyway, The 6th Form also suggested that we use a number of blog sites to find the most popular. I mean, what's the point if no one reads it? I made just one stipulation: that the blog sites are free. I'll be perfectly frank about this, but I'd rather see the funds allocated to this project end up my pocket. As I'm always pointing out to my pupils, it's cruel world out there.
I'll be using the blog to announce any policy changes, indulge in the usual malicious tittle-tattle about pupils, parents and staff, post the yearly staff assessment reports, divulge any news...the sort of stuff I'm doing the old way. But we must move with the times lest we become extinct. Like that pet the Flintstones had. A Dino-something. And here's something to cheer up the pupils in 4C. Following the malfunction of one of our nuclear powered toilets, (invented by the 6th Form), I'm happy to announce that young Charley Sharplin has almost totally recovered. According to his mother there are just a few bits of his body that continue to glow in the dark. However, she's asked me to spare her son's blushes by not mentioning what those bits were. And, as long as she doesn't cancel her Direct Debit at the bank, I'll keep my side of the bargain.
Of course, the 6th Form have also anticipated that non-members of WHS may also come across this blog. In which case I'd better introduce myself and tell you a little about our school.
My name is Alfred Hitchcork, NUT, TA, and I'm the Head Teacher of Wallygrange High School. The school OFSTED branded as the "worst in the UK, if not in the entire world!" A ringing endorsement indeed. (Extracts from OFSTED's stinging report will be featured in future posts.) I was born a baby and obtained my many distinguished academic qualifications from an Internet Mail Order Firm. I took over the school after the previous head teacher was found in the science block with his head in a bucket of sulphuric acid (actually his head wasn't in there having dissolved some hours previously. Apart from his left eyeball that lay on the bottom staring up at us. Or was it his right one)? He had also been severely beaten with a mop, had a carving knife in his back and his limbs had been chopped off with a chainsaw. The police suspected foul play and later arrested one of the science teachers, along with the caretaker, the cook, the cleaner…and pretty much anyone else they could lay their hands on.
Because of this unfortunate incident, a number of parents saw fit to remove their pupils from the school. Fortunately the teaching staff refused to let them go. Later, when the Head of PE exploded after drinking too much of that muscle building concoction they sell in health food shops, morale at the school sank to a new low. As a result of this, the School Governors decided that some new blood was needed. A few days later, the Deputy Head provided lots of it when he severed an artery whilst carving some graffiti in the staff washroom using a Stanley knife. It was at this point that I was appointed. And rightly so, I might say!
I soon turned the school around. Previously, it had been facing north. But, with some remarkable engineering ingenuity involving several bags of sugar and industrial fertilizer plus several sticks of dynamite, the school is now facing south. Although I'm a firm believer in discipline, I'm totally against the use of corporal punishment. Consequently, no corporals at the school have ever been punished. (So, if you're lucky enough to become a corporal you can do what you damn well like)! Instead, I've introduced the very effective system of detention that is used in Wallygrange today. First, the offender's hands and feet are tied together and then they're gagged. Then a hood is placed over their heads before they're sealed inside an airtight metal container which is then buried 900 metres underground. The term for this form of detention is Behaviour Modification Using Deep Isolation or BMUDI. At present there are only two pupils undergoing this punishment. Hopefully, we'll remember where we buried them. Finally, I like to maintain a close working relationship with both pupils and parents. As a result my office will be open for approximately eight seconds each day should they wish to drop in for a quick chat. And it'll have to be quick.
It has been suggested that the pupils of WHS are here merely to fill the Head Teacher's bank account. Whilst there's some truth in that, we also strive to ensure that our pupils fulfil their full potential. To achieve this, we provide the most comprehensive educational curriculum available in any school in the entire universe and beyond! This is no empty boast. To give you an idea of just how vast this range is, imagine counting every grain of sand on earth and then multiplying that number by 800 billion!
And that's only the number of subjects available to each pupil on their first day!

Each day after that, the number of subjects taught, (this naturally depends on how many teachers we have available), will quadruple every millionth of a second, (not including weekends and school holidays when this number is reduced by a factor of 3.8%). So, by the time you leave Wallygrange the number of GCSE's you possess could fill the known universe 10 times over!
And there aren't many schools that can make a claim like that.
Here at Wallygrange High School we believe in leading. For example, if we find that a pupil is trying to pull a fast one, we'll lead him up the garden path. If a pupil's behaviour is good we will lead them astray. And, if we find that any of our pupils have a musical gift, then we'll lead them a merry dance.
I'll be telling you more about our school in my next post. Bye for now!
PS:
For the sports minded I'll be telling you how we sharpen the reflexes of our bowlers and batters by making them practice with live grenades! Once someone's tossed you a Fragmentation Grenade with a four-second fuse fizzing away, the last thing you need is an LBW! (The grenades are surplus stock kindly donated by one of the parents who's in the arms trade.)
Proposed Changes to the School Rules
Please be advised that the School Rules have been changed. The new School Rules are below and will be in force - or not in force - until they're changed again.

Rule 1:
Pupils are reminded to stay alert at all times. This is because the school rules are flexible and liable to be changed several times during the day. The Head Teacher and his staff are also authorised to make up whatever rules they see fit and are under no obligation to make these rules known to the pupils.
Rule 1(b):
This states that Rule 1 may, or may not be, in operation when the pupil arrives at school.

Rule 2:
Pupils may be punished for breaking the School Rules or for not breaking them or for both. This will depend entirely on the whim of the Head Teacher or member of staff implementing this rule, (this includes the caretaker and his staff, cleaners and kitchen staff.)
Rule 3:
Care of personal property. All personal property must be clearly marked as follows...
"PROPERTY OF MR ALFRED HITCHCORK, NUT, TA.
"
This is especially important in the case of valuable items like jewellery and money. Property not marked will be confiscated. Marking items in this way makes it easier to locate the owner should the item be lost. Items of clothing do not need to be marked as they are exempt from this rule.
Rule 4:
School Uniform must be worn at all times. At the discretion of the Head Teacher and his staff, the nature of the school uniform may be changed at any time! Pupils found wearing the incorrect uniform will be fined.
"DON'T RUN IN THE CORRIDORS...OR DO? THINK! WHICH RULE IS IN FORCE TODAY?"
W. Rueney.
Acting Head Teacher.
Official Statement from the Department of Education

Dear Mr Hitchcork,
You may rest assured that we will close you down the next time.
Spokesperson for Jim Knight MP, Minister of State for Schools.
Announcement
(1) Those of you wondering where the Head Teacher is, Mr Hitchcork is presently in the Bahamas and will be returning to work next Monday. Previously when the Head Teacher has been away it appears that some of the staff have been bunking off after morning assembly. Mr Hitchcork doesn't mind the pupils doing it – after all, who wants to work in a school filled with noisy kids? But he expects his teaching staff to set a good example.
(2) We recently received an email from our old friend Agbara Udemba asking for 7 million bars of our laxative chocolate, (the one derived from Wheek's Rhubarb Wine.) It seems the residents of his country are suffering from an epidemic of chronic constipation and our 6th Form have promised to work overtime to fill the order. Pupils who wish to send their condolences to Agbara can contact him on agbara_udemba@yahoomail.com.uk.
Naomi Cambill.
School Secretary.
Pupil Safety
After the recent incident involving one of the pupils, may I remind pupils that the school toilet facilities are truly unique. Like the electron particle accelerator, they were built by the 6th Form. Controlled by a powerful mainframe computer, each toilet cubicle is powered by a small nuclear reactor situated on the roof. The toilets use a patented vacuum-inertial-gravity system that is perfectly safe as long as the pupil remembers to follow the detailed 457-page instruction manual. As an added precaution – and in line with the safety regulations laid down by the British Nuclear Industry Security Regulations – special decontamination suits are available from the caretaker at a small fee. Please note that this is payable in advance. However, the School Nurse, Miss Dolly Mixtures, would like to remind pupils that if they're suffering from acute diahoerra – as sometimes happens after having a school lunch – then they must not wear a decontamination suit. If they do, they may not be able to get it off in time.
Lee-Horvee Orswald.
School Caretaker
Pupil Safety (2)
The School Road Safety Officer, James Deen, has suggested that during the autumn and winter, pupils wear the special vulcanised suit he has developed, (with the aid of the 6th Form.) These vulcanised rubber suits are made from old tyres taken from tractors and JCB's and are extremely hard wearing. They can be easily cleaned with a garden hose. During autumn and winter the main roads are particularly dangerous due to fog and ice. The vulcanised suit will protect pupils from serious injury. James tested the suit himself by walking across the M6 in thick fog. He was struck by 25 vehicles of different shapes and sizes as he was bounced along the road. And after all that, he only sustained a few minor cuts and bruises! The vulcanised suits branded under the "Rubber-Dubber" designer label cost £250.25 plus VAT. Optional extras include "breathing holes" to allow air to circulate and plug holes in the soles so that sweat can be drained. Easy terms can be arranged.
"KEEP YOUR CHILD SAFE IN A RUBBER-DUBBER!"

Naomi Cambill
School Secretary.
Announcements

(1) The large black shiny cockroach seen in the kitchen area turned out to be a Year 11 pupil wearing one of the new "Rubber-Dubber" vulcanised suits.
(2) You will no doubt know that the Head Teacher will be returning tanned, fit and raring to go, on Monday. To show their appreciation pupils are asked to make a donation to the Head Teacher's Benevolent Fund. The box is situated outside his office. To make sure pupils don't forget, teachers will escort each class to the box before lessons.
(3) The Department of Education have asked all schools to adopt effective measures to deal with the problem of bullying. As from today, all bullies at Wallygrange will have their names and photographs displayed around the area with the caption:
"PLEASE TEACH ME WHAT IT'S LIKE TO BE BULLIED!"
W. Rueney.
Acting Head Teacher.